Reading time: 1.20 min.
We are very excited to see that our real estate investment opportunities are gaining popularity and work daily to bring the best and most profitable investment opportunities to our investors. Now that there are only a few more days until 2017 ends, it is a good time to make a recap of what has happened on Crowdestate crowdfunding platform over the past year.
Crowdestate crowdfunding platform in numbers
Crowdestate was launched in the spring of 2014, so it has operated for close to 4 years. During that time investors have funded 52 investment opportunities, including many reputable real estate developers projects and many companies seeking to grow, but needing working capital. Several of the investment opportunities have already ended, with 17 of them repaid in full with interest earned. The amount that has been repaid to investors exceeds 8 million euros, out of which interest paid is 1 million. The historic average IRR of exited investment opportunities is a remarkable 27.11 % p.a.
The platform is continuously being updated which is why starting from 2016 companies can apply for corporate financing (check our Click&Grow investment opportunity blog) and just recently mortgage secured investment opportunities. We will continue to process all of the new investment types with our usual thorough due diligence to bring the most profitable projects to our investors.
New features on Crowdestate crowdfunding platform
It is our goal to provide a good user experience and a versatile investment platform to all person interested in investing. Keeping this in mind we launched the following new features on our platform in 2017:
Google Authenticator to confirm your actions – sometimes you do not get the SMS in time or it does not arrive at all for technical reasons (for example exotic foreign countries). Google Authenticator is a smartphone app that can be used as an alternative to SMS confirmations. To use it, first download the app to your phone, activate the use of Authenticaton under your user profile setting and scan the provided QR code. Now you have an alternative way to confirm your investment order.
Interest auction – created for mortgage secured real estate investment opportunities, the interest auction enables the sponsors to potentially gain a lower interest rate, provided that there is high interet into the project from investors.
Autoinvest – a feature that many investors have asked for is finally available. Just enable the Autoinvest feature for your investment account, set the suitable parameters, and you will never have to worry about making an investment order again. Autoinvest will do it for you.
News and reports for investment opportunities – Crowdestate has always shared news regarding the projects funded via the platform. Earlier the news were sent to specific investors by e-mail. But starting for this year, all of the news and reports are available to everyone right with the project.
A new investment account overview page – a convenient and comprehensive way for investors to review their investments, statistics and news.
Investors and investment opportunities
Crowdestate crowdfunding platform continues to become international. With the aid of our Latvian parter we have opened several real estate investment opportunities in desired residential districts of Riga. And many investors also noticed our first ever project in Finland – the unique floating villas in Helsinki. There are close to 17 000 persons interested in investing on our platform and the number continues to increase. We were also pleasantly surprised that investors from 176 countries from all over the world have visited our website.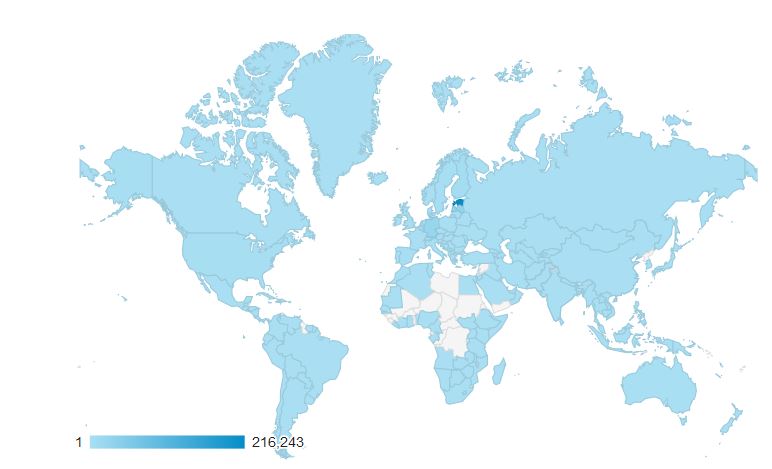 Crowdestate crowdfunding platform sincerely extends our gratitude to all of our cooperation partners, Sponsors and investors for this awesome year. And we wish that 2018 would be even more profitable for our investors!
The full annual report (in Estonian only) can be downloaded here.