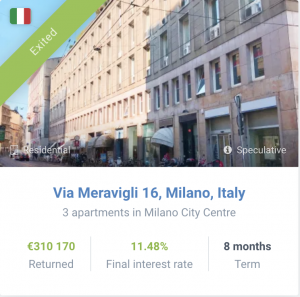 We are extremely happy to announce that Via Meravigli 16, Milan investment opportunity has been successfully completed thanks to all the investors who took part in it through Crowdestate.
The investment, managed by the real estate development company "Cunietti & Oggioni Real Estate", represents the first exit for Crowdestate on the Italian market, which generated a return of 11.48% on an annual basis. The total number of Crowdestate successfully exited projects reached 69!
In January 2019, through the Crowdestate.eu platform, Cunietti & Oggioni Real Estate launched a € 300,000 crowdfunding campaign aimed at financing the transformation and resale of 3 luxury apartments located in the heart of Milan, at Via Meravigli 16, 200 meters from the Duomo square.
After 4 months only, the project was completed, and all the apartments were sold. Crowdestate investors who believed in the project get a pay-off with a gross annualized ROI of 11.48%.
Milan's real estate market demonstrates to be an excellent opportunity to diversify investments thanks to a very fast sales market and constantly growing macroeconomic values.