Reading time: 1 min.
Crowdstate requires all investors to verify their identities to ensure security and prevent fraud.
Read more on why we chose to verify accounts HERE.
Tips on how to take correct pictures of yourself.
PS: You need to use a camera (web camera on your laptop or comuper, phone camera or camera on your tablet.)
HOW TO VERIFY
Go to ' My Profile' and look for 'Identity verification'.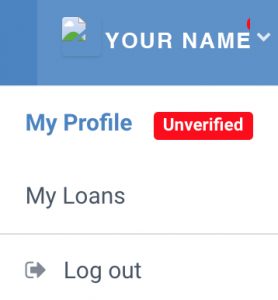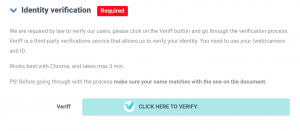 Click on blue 'Veriff' button.
Make sure that your name under 'My Profile' matches with the one on your document and agree with the terms and conditions.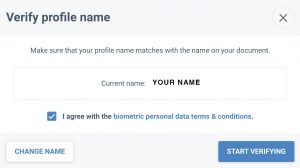 Click on 'Start verifying' and you will be forwarded to Veriff's webpage, where you should follow the steps shown in the video:
Further explanation
Choose a document to verify your identity – ID card, passport or driver's license (living permit is not an ID card).
After clicking 'Start' take a portrait photo. Press on 'Take photo' button. Before your proceed, make sure your face is not blurriy and press 'Continue'. In case it's unclear, take a new picture by pressing on 'Try again'.
Take a picture of your document – front and back side. Make sure it's between the lines.
To end verification click on 'Finish', after what your data will be uploaded and you can continue to Crowdestate's page. Before your identity is verified, you will see an orange dot, which means your verification is being processed.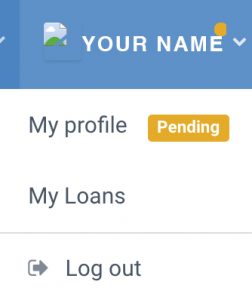 Company's investment account
Go to your investment account settings ('Overview' – 'Settings' – 'Edit account settings'), add additional documents and wait for the confirmation email.
In case of questions or you need some help, write to us at info@crowdestate.eu and we'll help you out. Time to verify!